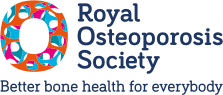 Living with osteoporosis
It's natural to be concerned about how osteoporosis is going to affect your daily life. But having osteoporosis doesn't always mean avoiding activities and interests that are important to you and your loved ones.
In general, life should be able to go on as normal - perhaps with just a few adjustments.
Not everyone with osteoporosis goes on to break a bone. Be reassured that if you don't break a bone, you won't be in pain, or experience the long-term problems associated with osteoporosis.
If you do break a bone, pain and ongoing problems aren't inevitable. But if you have pain and other symptoms, there are ways you can manage them so you can continue living the best life possible. And we're here to help you live well with this condition.
We're always here for you - whether you need information, reassurance, or a simply a friendly conversation with someone who understands what you're going through.
Become a member today to get all the latest information to help keep your and your family's bones healthy and strong.
Further information
We influence and shape policy and practice at every level through our work with healthcare professionals and policy-makers.
How you can help