Become a member
By becoming one of our members, you'll become part of a community, and the ROS family. You'll have access to advice and support from bone health experts – and all the latest information on osteoporosis, to ensure you have everything you need to build strong healthy bones for life. 
It costs from £2 a month to join
What your membership gives you
As a member you'll receive these exclusive member benefits and regular communications; 
All About Osteoporosis – a free 100-page reference book to tell you everything you need to know 
Osteoporosis News – three times a year you'll be sent our member magazine full of news, views, recipes, information about diet and exercise, how you can get involved, and more 
Member e-news – you can sign up for our monthly member email newsletter to keep up to date with the latest news, and events from your community 
Members Extra – our members-only area of the website where you can access a wealth of information and support 
How will membership help you?
You'll receive expert health information and support that you can trust to help you;  
live well with osteoporosis 
build strong bones  
build your confidence  

manage the condition – including treatment options, pain and anything else 
It'll enable you to connect with others through 
events  

supporter and volunteer groups 
By becoming a member you'll also help support the specialist nurse Helpline, pioneering research, plus vital prevention and campaigning work - putting bone health at the top of everyone's agenda.   
Choose the right membership for you

 
Individual £24/year – or just £2/month 
Individual Overseas  £36/year – or just £3/month 
Or save money by opting for one of the following; 
Joint £30/year for 2 people – so £2.50/month for both of you – and a saving of £18/year compared to individual membership 
Gold  - £190 for 10 years' membership – saving £50! 
Joint Gold  £276 for 10 years' membership for both of you – saving £24! 
You can join online today, call 01761 473287 or email membership@theros.org.uk to speak to one of the team 
Members' magazine
Read a sample of our members' magazine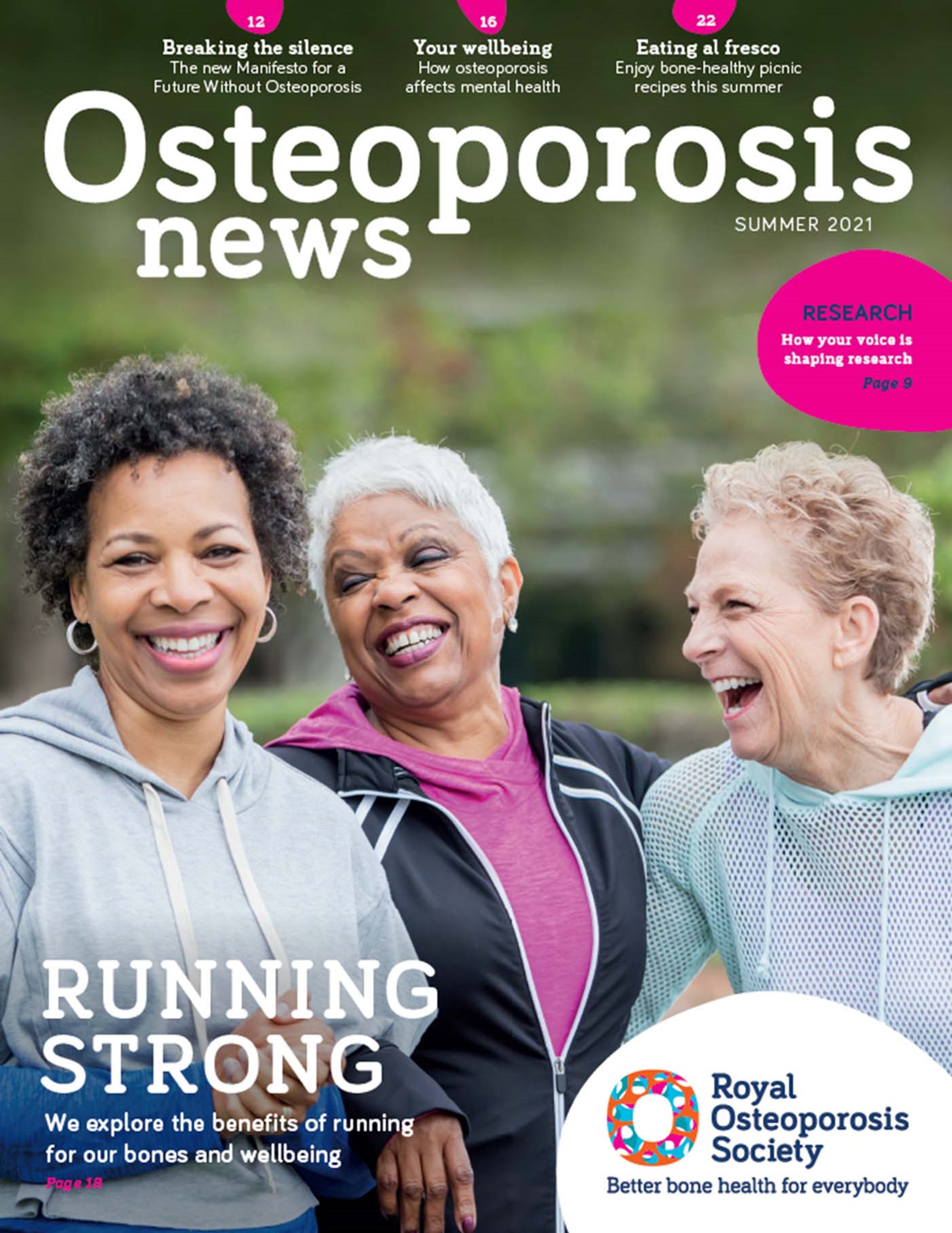 Through my membership I now feel part of a community of people with shared experiences and a common bond - Kay, Sheffield
The magazine helps me see that we're in this together, and I'm not alone with this condition - Celia, Oxfordshire
Join today
Become a member today for just £2 a month

Join online or call us on 01761 473287