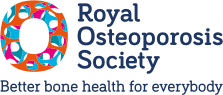 Life With Osteoporosis
We asked people living with osteoporosis across the UK to tell us what life is like for them, and how osteoporosis affects their everyday life. Over 3,000 people responded, sharing their stories.
Read Life With Osteoporosis 2021

We help the nation look after its bones and appreciate the importance of bone health for everybody. If you develop osteoporosis, we're here to help you live well.
Policy manifesto
Osteoporosis affects 3.5m people in the UK, but it's known as the "silent disease" as so few know about it. Now is the time to break the personal, societal and financial impact, and take action to put an end to the dire consequences of fractures.
Read our policy manifesto