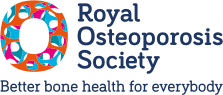 Recovering from a broken bone
Osteoporosis doesn't affect the healing process of bone. So if you do break a bone, rest assured it can heal as normal.
Some broken bones need an operation to help them heal, while others get better on their own. A broken bone usually takes between six and 12 weeks to heal, although this can be longer.
There are things you can do to speed up the healing process:
Eat a healthy balanced diet, with plenty of protein

Avoid smoking - smoking limits the blood supply to your bones

Rest and take it slow
We understand that breaking a bone can be painful and frustrating. If you're in pain right now, remember that in most cases, it passes.
Further information
Broken wrist - If you've broken your wrist it should heal as normal within six and 12 weeks. Read more about recovering from a broken wrist.
Spinal fracture - A spinal fracture is when a bone in your spine becomes compressed or squashed after losing strength. Read more about recovering from a spinal fracture.
Broken hip - A broken hip usually needs an operation to fix or replace the top of the thigh bone. Read more about recovering from a broken hip.
Get support from a Specialist Nurse
Contact our free Helpline for tailored information about osteoporosis and bone health:
We're driving research and the development of new treatments, working towards a future without osteoporosis.
How you can help