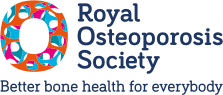 Exercise and physical activity for osteoporosis and bone health
After a diagnosis of osteoporosis or if you have risk factors, you should do more exercise, rather than less. Being physically active and exercising helps you in so many ways, and is very unlikely to cause a broken bone.
If you have spinal fractures or lots of other broken bones, you may need to modify some exercises to be on the safe side.
We can help you find the adaptations that work for you, so you can continue the lifestyle you enjoy as far as possible.
Weight bearing exercise will need to be approached differently for wheelchair users. If your body allows, taking weight throughout the skeleton and standing throughout the day is very beneficial for the bones in your legs. If that's not available to you, using light dumbbells in your arms is also helpful. The bones that are strengthened will be the ones supported by the muscle groups you exercise.  
Choosing exercise and movements that work for you
There are three ways that exercise and safe movement help with bone health and osteoporosis:
Promote bone and muscle strength

Keep you steady

Care for your back
For an introduction to the different ways that exercise and physical activity help with bone health and osteoporosis, read the About exercise fact sheet. It can help you think about how the benefits apply to you, and whether you should prioritise any single one.
Remember, any exercise you do for your bone health should be in addition to the exercise you do for your general health.
Exercise videos and fact sheets
Use our collection of video clips and fact sheets to practice exercise routines and movements that are safe if you have osteoporosis or risk factors.
We've included adaptations, so you can exercise according to what you can manage. You'll find something that's right for you.
Also see:
With many thanks to all the volunteers and professionals on our expert steering and working groups, who helped us develop these videos and fact sheets, and those who gave their time and permission for us to film them in the videos, including:
Kerrie Hodges, Clinical Specialist Physiotherapist, Cheltenham General Hospital (Level 4 Postural Stability Instructor)

Sarah Legg, Senior Physiotherapist Rheumatology, Royal National Hospital for Rheumatic Diseases in Bath (Level 4 Postural Stability Instructor)

Lynne Robinson, Founder and Director, Body Control Pilates

Sandra Shaw, exercise specialist (Level 4 Postural Stability Instructor)
Get support from a Specialist Nurse
Contact our free Helpline for tailored information about osteoporosis and bone health:
Before and after exercise
Find out how to prepare and warm up before exercise and cool down after.
More before and after exercise videos

Bone and muscle strengthening
Find exercises that focus on bone and muscle strength in the spine, wrists and hips.
More bone and muscle strengthening videos

Keeping steady
Find out how exercises can make you more steady to prevent slips, trips and falls.

Caring for your back
Find out about bending forward and how exercise can help with pain and posture after spinal fractures.
More caring for your back videos
Films not playing?


If you can't see or play the films on this page, you may need to:

Allow all cookies. You can do this in your internet browser settings ('Privacy' section). Visit the About Cookies website if you're not sure how.
Clear your cache. You may find our guide helpful if you're not sure how.

If you're still unable to watch the films, you can find all of our exercise films on YouTube.
We work to improve the bone health of the nation and support everyone with osteoporosis to live well.
How you can help