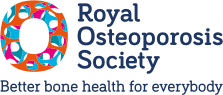 Online information events
Welcome to 'Bone Matters', our new series of online Q+A sessions – giving you the chance to hear from leading experts in osteoporosis and bone health about the subjects that matter to you.
Join us for our series of Facebook Lives, 'FAQ' videos and longer webinars, featuring members of our own Clinical team alongside colleagues from our wider community of professional experts.
Throughout the year, we'll be hosting regular online Q+As to help you and your loved ones live well with osteoporosis. From living with fractures and understanding scans and tests, to nutrition and exercise – we'll be talking to experts about the topics that matter most.
Events coming up in 2022:
Check back regularly to see what's coming up, and to catch up on previous events.
Date

and time

Topic

Details

17 May

6.00 - 7.30pm

Medication support

Dr Nicola Peel

Dr Zoe Paskins

Professor David Armstrong

Join us for our webinar explaining how the various bone-strengthening drugs work, with the aim of helping you make decisions about your own treatment.
Click here to learn more and register for May's webinar
Join us on Tuesday 17 May for our first Bone Matters webinar on medication support. Hear from leading experts Dr Nicky Peel, Dr Zoe Paskins and Professor David Armstrong on key topics to help you make decisions about your osteoporosis drug treatment. Topics include:
What's new in drug treatments
Understanding side effects or health risks
Getting the most out of your medication
Hosted on Zoom, our expert panel will be updating you and answering your questions live during the webinar.
You can view the agenda and information about each of our speakers on the registration page.
New to Zoom?
We've put together an easy-to-use guide to help you get the most out of the webinar. Details will be sent to registrants by email and will also be available on the event page.
| | | |
| --- | --- | --- |
|   |   |   |
| June  | Relationships and intimacy | Tune in for an evening discussion between experts and patients on maintaining relationships while living with osteoporosis and broken bones. |
| July  | Nutrition | In this online Q+A, hear from experts about how eating and drinking the right things can support your bone health at every stage of your life. |
| August | TBC | Our specialist nurses will be answering a common query from the Helpline in this month's short Q+A film (topic TBC). |
| September  | Living with fractures | We'll provide practical advice in this webinar on how to live with osteoporosis and broken bones, including ways to manage pain. |
| October | TBC | Our specialist nurses will be answering a common query from the Helpline in this month's short Q+A film (topic TBC). |
| November  | Exercise and osteoporosis | We'll explore the various ways you can continue to exercise and maintain your fitness in this Facebook Live. |
| December  | How to cope – a patient's perspective | Log on for our Facebook Live addressing common fears after a diagnosis, sharing ways to get the support you need, and tackling issues such as loneliness. |
Catch up on previous events:
 
 

 

February 2022

Pregnancy associated osteoporosis

In a nod to Rare Disease Day, our Clinical Advisor, Sarah Leyland, was joined by Professor Stuart Ralston, Chair of Rheumatology at Edinburgh University, and a patient with this rare condition.

April 2022

 

DXA and other scans for osteoporosis

Jill Griffin - ROS Clinical Lead, Vertebral Fractures

Our April event focused on what bone density scanning (DXA) is, what your scan results might mean, and other scans that might be used.