Managing patients on biosimilars during COVID-19
Treatment
30 Nov 2020
The COVID-19 pandemic has imposed many challenges across all aspects of the UK healthcare system, and osteoporosis is no exception. In this article, Dr. Rajak discusses his experiences and new working strategies during the pandemic around diagnosis, referral, treatment and management of osteoporosis patients, including those treated with teriparatide biosimilars. Along with insights from Dr Hauser and Ms Gomez, they discuss the adaptations made to maintain functioning of the osteoporosis services, and their advice for the future of treatment during the pandemic.
Dr Rizwan Rajak
Consultant Rheumatologist and Clinical Lead for Osteoporosis & Metabolic Bone Health and Rheumatology Musculoskeletal Ultrasound, Croydon Health Service NHS Trust, Croydon
Dr Barbara Hauser
Consultant Rheumatologist with specialist interest in Osteoporosis and Metabolic Bone Disease
NHS Lothian, Edinburgh
Ms Monica Gomez
Osteoporosis Nurse Specialist
NHS Lothian, Edinburgh

The following educational article was developed in partnership with Gedeon Richter and contains references to promotional pharmaceutical product information.
It is intended for UK healthcare professionals only.
Job code:
UKI-TERR-2000054 – November 2020
Acknowledge and continue reading
The COVID-19 pandemic has imposed many challenges on health services, and osteoporosis services are no exception. The temporary shutdown of some facilities during the peak of lockdown caused major disruption throughout the treatment pathway which required adaptation, and work is still under way in many centres to restore diagnosis, monitoring and treatment of patients, whilst adjusting to new requirements and restrictions.

Dr Rajak's department have seen a reduction in referrals since the beginning of the COVID-19 pandemic – their waiting time for an initial appointment used to be ten to twelve weeks, but this has now reduced down to two. They described this as a worrying trend, as the number of osteoporosis patients should not have changed. Therefore, there must be patients who require treatment that have not yet been identified. There were three main factors that they felt contributed to this concerning decrease: a reduction in GP referrals, fewer reported fractures in hospitals, and an interruption to dual-energy X-ray absorptiometry (DXA) scan access. He expressed concern over how these patients may present in the future.

"Patients are being missed who could benefit from therapy. This may lead to an upswing in the number of severe patients presenting with multiple fractures who should have already been treated"

Dr Rajak posited that fewer patients were having medication reviews with their GPs as a result of the immense pressures placed on primary care during the pandemic, and therefore the rates of referral to hospital osteoporosis services have dropped. Additionally, he noted that certain educational opportunities that may put osteoporosis signs and symptoms at the forefront of GPs minds have been postponed, with alternative formats being considered.

"Patients are slipping through the net at the level of primary care. The usual whole day of GP education for post-graduates (150 per year) during the summer has not happened due to the pandemic. However, there are plans being developed to pivot to a digital webinar format, to combat this lack of education"

The rates of fractures reported in hospital have also decreased. Dr Rajak speculated that this could be due to people's fear of coming into hospital, or potentially that vulnerable individuals are less mobile as they stay at home for long stretches, reducing their risk of stress fracture. He also noted that three of their four Fracture Liaison Service (FLS) nurses have been moved to work in the community, which could potentially contribute to the lower reporting rate in hospital. Education for GPs to increase their knowledge of the signs of osteoporosis was once again raised by Dr Rajak as a possible solution for alleviating the pressure on hospital staff, as this could facilitate more of the FLS nurses returning to secondary care.

In addition to reduced referrals from GPs and fracture clinics, there was also a five-month period with no access to DXA scanning in Dr Rajak's centre. This meant new patients could not have their full baseline assessments to determine the severity of their osteoporosis, and therefore the appropriate course of therapy. Once these services were restored, the team worked tirelessly, increasing their capacity to complete up to 75 DXA scans a week in order to get through the waiting list.

Dr Rajak noted that once patients reach their clinic, the decision-making process that leads to patients being prescribed therapies, such as teriparatide biosimilars, has otherwise been unaffected by the pandemic. However, the low rates of referrals have meant that the number of new patients initiated on these therapies is lower than before – Dr Rajak gave the example that he had only given one new prescription of Terrosa▼ (teriparatide) in the last month.

There were also temporary reductions to homecare nursing appointments during the start of lockdown. As the homecare nursing team in Dr Rajak's Trust leads on Terrosa injection device education, this meant a few patients who had been identified for treatment had a delay to the start of their therapy, as they could not be taught how to use the device. However, this was quickly resolved as new processes were put in place to re-establish these services. A number of different educational tools have supported initiation on a variety of injectable therapies during the period of lockdown. "How-to" videos hosted on patient websites were identified as particularly valuable to patients, similar to those provided on the Terrosa patient website (for details on how your patients prescribed Terrosa can access this, please see the end of the article). However, there are some older individuals who are not comfortable using the internet. Phone services staffed by nurses were more suitable for these patients, and local chemists were also recruited to discuss the use of self-injectable therapies. The local hospital pharmacy also permitted the prescription length for self-injectables to be doubled to four months, halving the number of times patients have to enter pharmacies, which reduces their exposure to healthcare settings.

Video and phone appointments have been a crucial pillar of the osteoporosis service during the pandemic. Many patients have welcomed the introduction of this new format, as it is more convenient and less disruptive than coming into the hospital. Dr Rajak shared that older patients were most likely to prefer face-to-face appointments. Therefore, moving forward he and his colleagues will be implementing a flexible model where patients have a choice in how their appointment is conducted if they have a preference.

When looking to the future of osteoporosis treatment, Dr Rajak discussed the positioning of teriparatide biosimilars in the therapeutic algorithm. He felt that the reduction in the cost of teriparatide biosimilars, such as Terrosa, compared to the teriparatide originator should merit such therapies being reimbursed in earlier lines of therapy in England. He cited the situation in Scotland, where biosimilars are used more frequently.

"The restrictions in Scotland are very different, and anabolics are easier to access. The cost of any other treatment for spinal fractures or wrist fractures is expensive, approximately £2,000‒£2,500, which would justify using anabolic biosimilars – the cost dropping will help to put anabolics upfront"

Dr Rajak speculated that broadening reimbursement of teriparatide biosimilars beyond second-line therapy after bisphosphonates could potentially help with the treatment of greater numbers of osteoporosis patients presenting at a more severe stage due to the pandemic-induced delay in diagnosis and referrals.

Dr Hauser and Ms Gomez reported similar experiences to Dr. Rajak in their health board NHS Lothian, which also had capacity reductions in DXA scanning, leading to a backlog of patients and a growing waiting list. Services have now restarted with an alternative approach – patients on the waiting list have been reprioritised to make sure that those at highest risk of fracture receive their scans first. They also noted an encouraging trend - the lowered rates of primary care referrals previously seen have begun to recover. Their experience has been that some elderly patients and their relatives are reluctant to attend hospital appointments. In certain cases, patients with hearing difficulties have been supported by their relatives with telephone consultations. On the other hand, some patients clearly prefer face-to-face appointments as they may discuss more issues and be examined or investigated further if necessary.

When asked what their advice to their colleagues would be in light of the current lockdown and pending future restrictions, Dr Rajak stressed the paramount importance of maintaining communication with other clinical teams throughout primary and secondary care such as GPs, community nurses and fracture services. All three HCPs asserted this was the best way to ensure continuity of diagnosis, treatment and follow-up for osteoporosis patients during the ongoing COVID-19 pandemic.

For patient materials on how to prime and prepare the Terrosa pen for injection, maintain the device, instructional videos and treatment trackers, your Terrosa patients may like to visit the dedicated patient website at www.myterrosa.co.uk using the password "Terrosa01". There are also educational DVDs available for patients who may have challenges accessing the internet.

And for more information on what Terrosa means to patients, watch this short video, TERROSA: What does it mean for your patients?, featuring Professor McCloskey, Professor of Adult Bone Diseases and Honary Consultant, University of Sheffield, and the Royal Osteoporosis Society.

Clicking the video takes you to a website with promotional information for UK healthcare professionals only.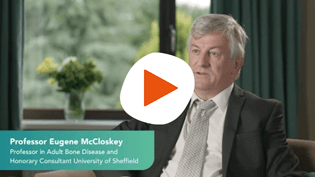 Download the prescribing information for Terrosa (teriparatide).
Adverse events should be reported. Reporting forms and information can be found at www.mhra.gov.uk/yellowcard or search for MHRA Yellow Card in the Google Play or Apple App Store Adverse events should also be reported to Gedeon Richter (UK) Ltd on +44 (0) 207 604 8806 or drugsafety.uk@gedeonrichter.eu
Job code:
UKI-TERR-2000054 – November 2020