The road to accessing teriparatide biosimilars
Treatment
17 Sep 2020
While, in general, biosimilars are no longer a novelty, consideration and planning are required by departments as biosimilars become available in each new speciality.
In this conversation, Professor Mike Stone and Mr Adrian Davies reveal their insights from implementing anabolic biosimilar treatments for osteoporosis in their centre and give tips for navigating the process.
Ms Caron Underhill also provides a noteworthy case study, detailing the investment her team secured for their department as a result of increasing their uptake of biosimilars.

Professor Mike Stone
Consultant Physician and Clinical Lead for Metabolic Bone Disease Services, Cardiff and Vale University Health Board

Mr Adrian Davies
Directorate Pharmacist, Specialised Medicine, Cardiff and Vale University Health Board

Ms Caron Underhill
Biologics Pharmacist, Specialist Medicine, University Hospital Southampton NHS Trust

The following educational article was developed in partnership with Gedeon Richter and contains references to promotional pharmaceutical product information.
It is intended for UK healthcare professionals only.
Job code:
UKI-TERR-2000037 – September 2020
Acknowledge and continue reading
Biosimilars have generated a lot of excitement in the UK since the launch of the first monoclonal-antibody biosimilars, Inflectra® and Remsima® (biosimilars of the drug Remicade® (infliximab)), in 2015, indicated for a range of auto-immune diseases.1*
Being comparable in terms of efficacy and safety, biosimilars have continued to expand into other therapeutic spaces in the UK, including osteoporosis, where the first bone-building biosimilar was launched in 2019 as Terrosa®▼ (teriparatide), with an alternative biosimilar of teriparatide launching shortly after.2,3
When accessing biosimilars, the step-by-step process begins with preparation and planning as new biosimilars become available. As Mr Davies explains, horizon scanning for new products, including biosimilars, allows pharmacists and clinicians to begin conversations around which treatments they'd like to offer their patients, so any administrative work required to access them is in place ahead of their availability.
Getting advocacy from everyone on the clinical team is the next step, one which Prof. Stone and Mr Davies agree is not always straightforward - especially where clinicians may not be familiar with biosimilars, and as is the case in the osteoporosis speciality, where there are multiple biosimilars available. The selection of a preferred biosimilar is an important part of this initial process.
To support his advocacy, Prof. Stone always looks to the data.
"From the clinician's point of view, you want to be confident a biosimilar is going to do the same thing. And if you look at the data, you can be confident there's bioequivalence [to the originator].
"For Terrosa, for example, there's pharmacokinetics, blood calcium data, clinical bone density data and a comparable safety profile to support its equivalence."4,5
General biosimilar advocacy is increasing as familiarity with this type of drug continues to grow. However, even with the clinical support, the administrative work required to access them can still prohibit uptake.
Following a request from the clinical team, pharmacists within the Trust must next ensure the drug is available on their formulary, a process which differs across the UK at the local level. Usually this involves a business case submission, which lays out the supportive data and cost-benefit profile of the drug.
Some pharmaceutical companies provide formulary packs, explaining the clinical data for a product, to support these submissions but cannot completely carry the burden. Although, given the cost-savings, which in England alone is potentially £200 million to £300 million per year by 2020/2021 for biosimilars in general, Prof. Stone considers it a "no-brainer".6
"Even if the cost benefit isn't given directly to the department, it would almost be unethical not to help the patients and save the NHS money at the same time".
Fortunately, as biosimilars become more widely used, the work required to access them becomes easier to navigate. Ms Underhill notes how now, with NICE approval, biosimilars are automatically added to the formulary in her trust where the originator drug is already on the formulary.
Illustrated by the case of Terrosa locally, Mr Davies explains that there was very little administrative work to complete, especially as Terrosa was the first biosimilar of teriparatide and it was only used in one speciality.
The benefits reaped from using biosimilars can be another way to leverage support, both from the clinical team, but also the commissioners such as Health Boards and Clinical Commissioning Groups (CCG).
Following approval from NICE, these bodies commission the use of high cost drugs and would usually absorb any savings. However, it is possible for pharmacists to reach out to their commissioners to agree that a proportion of the cost savings are returned to the department who are making the effort to implement biosimilars. They are therefore a stakeholder to reach out to early on.
Across different centres, the use of these savings has brought wide and varied benefits. In Mr Davies' experience, he has seen biosimilar savings used in negotiations to keep a specialist nurse post. He also shared the wider benefit biosimilar savings can have for many patients when managing an ever-tightening medicines budget.
"If there are threats of cuts, then biosimilar savings could be a useful bargaining chip. The newer expensive drugs put pressure on the drugs budget, so those savings can facilitate the prescribing of expensive drugs like those used in cystic fibrosis".
Ms Underhill shared her experience with biosimilar savings, and as an example of how important the relationship with your commissioner is. She noted that, although cost-savings are important for the CCGs, there had to be something in it for the clinicians doing all the work to switch to biosimilars in the first place.
Although CCGs don't have an obligation to share these savings with the hospital, having a good relationship and proactively negotiating with her CCG allowed Ms Underhill to facilitate the reinvestment of a proportion of the biosimilar savings back into the department. These savings funded an additional administrative assistant to support the clinical team. She advises transparency and proactivity when working with your CCG.
"Being transparent, open and working with your CCG is important. It's about making sure the money is being spent in the most effective way."
The benefits of using biosimilars do not stop at their immediate savings either. Mr Davies mentions how, even if originator products were to drop their prices, the use of biosimilars is important to generate competition in the market and carve a space for the future production of other biosimilars too, continuing to ensure value for money for the Local Health Boards.
Uptake of biosimilars is an important metric measured by the Welsh government, for this reason, as well as to ensure all Local Health Boards are taking advantage of the opportunities biosimilars present.
Similarly, Ms Underhill also looks beyond the immediate savings, and continues to bring the conversation back to the patient and the increased access to treatment that could result from further uptake of biosimilars.
"You also have to look at the big picture. If patients are able to return to work, education, caring for children or elderly relatives there will be indirect savings made."
Having understood these advantages of biosimilars through their use in other departments like rheumatology, Prof. Stone said they were excited to see their implementation in the osteoporosis space.
"Teriparatide is something we'd all like to use more of in eligible patients, but we can be restricted by cost."
The process of getting biosimilars into patient hands is also one which requires some planning. Even though the drug may be comparable, medical devices and homecare services can be different, and the patients' experience and opinion of their treatment is an important factor to consider.
Mr Davies and Prof. Stone noted how the patient needs to be at the centre of every decision.
Mr Davies - "You have to be proactive in talking to the patients about equivalence and the benefits the cost savings bring to them and the service. You need to take a patient-centric approach".
Prof. Stone - "We didn't see any difference in the patients we have switched over to Terrosa so far. We were pleasantly surprised how well they have transitioned to the new treatment device and by and large it's been well received".
Mr Davies also recommends talking to your homecare specialists within the hospital pharmacy to get their opinion on the different options they work with to guide choice where there are multiple options offered by pharmaceutical companies.
Homecare services are important for being a first point of contact with patients when they are becoming established on a biosimilar. The training and support they offer is invaluable, so homecare services should be carefully considered.
Pharmaceutical companies, including Gedeon Richter, may also provide patient materials and training videos to support patients with their new treatment.
In closing, Prof. Stone summarised his advice for consultants when considering biosimilars.
"Never forget the patient; cost-savings benefit patients in general. Be aware of the data and be confident in biosimilarity. Be aware of how to use the treatment device, gain the trust of the patient and involve them in the process."
Similarly, Mr Davies echoed Prof. Stone's patient-centric approach.
"Try to be aware in good time and reach out to your pharmacist and choose your homecare company wisely. Talk up the cost saving, but never forget the patient."
Therefore, the road to accessing teriparatide biosimilars, like Terrosa, can be broken down into the following steps:
Horizon scanning – stay up to date with new biosimilar availability and take the time to prepare
Get buy-in - whether from the clinical team or the pharmacy, all important local stakeholders must be onboard
Reach out to your CCG or Health Board - if your local process requires an application to these stakeholders to access biosimilars, start a conversation as early as possible
Follow local process to ensure the biosimilar will be added to the formulary once launched
Line-up your preferred homecare company
Inform suitable, eligible osteoporosis patients of any upcoming changes
For more information about Terrosa and the impact biosimilars can have on your practice, watch this short video, TERROSA: What does it mean in practice?, featuring Professor McCloskey, Professor of Adult Bone Diseases and Honorary Consultant, University of Sheffield, and Royal Osteoporosis Society.

Clicking the video takes you to a website with promotional information for UK healthcare professionals only.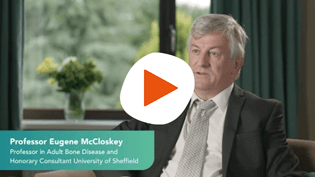 Download the prescribing information for Terrosa (teriparatide).
Adverse events should be reported. Reporting forms and information can be found at www.mhra.gov.uk/yellowcard or search for MHRA Yellow Card in the Google Play or Apple App Store Adverse events should also be reported to Gedeon Richter (UK) Ltd on +44 (0) 207 604 8806 or drugsafety.uk@gedeonrichter.eu
NHS Northern Treatment Advisory Group. Appraisal Report Infliximab Biosimilars (Remsima® & Inflectra®). 2015. Available at: http://ntag.nhs.uk/docs/app/NTAG-Appraisal-Report-Infliximab-Biosimilars-web.pdf (last accessed: August 2020).
Gedeon Richter. TERROSA®. Summary of Product Characteristics. 2017. Available at: www.ema.europa.eu/en/documents/product-information/terrosa-epar-product-information_en.pdf (last accessed: August 2020).
Thornton & Ross. Movymia®. Summary of Product Characteristics 2017. Available at: https://www.ema.europa.eu/en/documents/product-information/movymia-epar-product-information_en.pdf
Takacs I et al. Osteoporos Int. 2018; 30(3):67S-683.
Hagino H et al. Osteoporos Int. 2019; 30(10): 2027-2037.
NHS England. Commissioning framework for biological medicines (including biosimilar medicines). Available at: https://www.england.nhs.uk/wp-content/uploads/2017 /09/biosimilar-medicines-commissioning-framework.pdf (last accessed: August 2020).
Job code:
UKI-TERR-2000037 – September 2020
*Inflectra© is a trademark of Pfizer Limited.
*Remsima© is a trademark of Celltrion Healthcare UK Limited
*Remicade© is a trademark of Merck Sharp & Dohme Limited