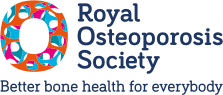 How we make sure our health information is balanced, independent and relevant
Our updated online information on Hormone Replacement Therapy (HRT) in bone health is now available here. This is a topic of much debate and differing opinions, so we thought you might like to know how we make sure our health information is unbiased, accurate and relevant for you.
One of the most valuable resources of the Royal Osteoporosis Society (ROS) is the number of experts, both clinical and academic, who we draw on to make sure our health information is of the highest quality. Collectively, they help us provide free, reliable, independent support on how to manage all aspects of bone health.
On certain issues, experts take different views. Sometimes the way that a condition is treated and managed changes as new evidence emerges, and often the evidence is complex, meaning there may not be a "right" or "wrong" approach that applies to everyone in the same way. The use of Hormone Replacement Therapy (HRT) in the prevention and treatment of osteoporosis is one of those debated areas.
When we write our information for you, we aim to reflect these different views in a way that is balanced, independent and easy to understand. That way, people can make the judgement that's right for them.
A recent example of this was during the early stages of the COVID-19 pandemic. We were asked many questions for which there were no clear answers. We responded to these by seeking the consensus view of our clinical and scientific advisors who helped us give practical information to help people living with osteoporosis manage their condition. As time has moved on during the pandemic, we have been able to draw on more evidence to support this information and have added to and adapted our suite of guidance in the COVID hub accordingly.
What's a constant is that the ROS will always act with the highest level of independence and integrity in shaping our information to the public. Here are four ways we make sure what we say is accurate, reliable and independent:
1. We'll always reflect the evidence and current best practice
Our experts base their information on the best available evidence and consensus among experts in the osteoporosis field. We'll explain where recommendations come from. And we'll make sure we tell you the position of the NHS and regulators.
Sometimes the information we provide changes, as new studies are published and/or regulators change their policies. Where that happens, we'll make sure we move with the changes, so what you see is always up to date.
2. We'll listen to feedback
We welcome feedback and actively seek out the views of those who use our information to make sure it makes sense and is properly understood. We'll always be open-minded to comments, feedback and challenges to our information. We'll never act defensively and we'll always listen.
3. We'll make sure there's a process for balancing different views
Our Clinical Committee acts as a guardian of the charity's independence. The committee brings together clinical, scientific and other advisors from a wide variety of disciplines. Together, our advisors help us review the evidence and reflect best practice. They'll make sure any conflicts of interest are disclosed. Then they'll balance what they've heard to make an independent judgement of what's in the best interests of people living with osteoporosis.
4. We'll always be accountable and transparent
Nothing's more important than our integrity. So we'll make sure that we stay accountable to the public at all times. If we don't know the answer we'll never be afraid to say so and when we consider contested issues, we'll be open about how we handle them – just like in this article.
Health information can be quite complex and often needs to be considered in the context of an individual's circumstances. The specialist nurses on our helpline can talk information through with you to help you understand it, so that you can talk to your doctor about what's right for you.
We influence and shape policy and practice at every level through our work with healthcare professionals and policy-makers.
How you can help