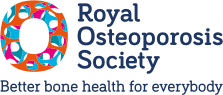 Media toolkit
Did you know that 3.5 million people are living with osteoporosis in the UK?
Or that half of women and 20% of men over 50 will break a bone because of the condition?
Our media toolkit has a wide range of statistics and resources to help support your work.
Contact information
For references or further information, please contact our media team
Key facts and statistics
Our statistics and key facts are sourced through our research, polling and inquiries, and all help to increase our understanding of osteoporosis and bone health.
Osteoporosis causes bones to lose strength and break more easily (also known as fractures).
3.5 million people in the UK are estimated to have osteoporosis.
Half of women and 20% of men over 50 will break a bone because of osteoporosis.
We reach our peak bone health at the age of 30 and it begins to naturally decline as we get older, especially for women around the menopause. Osteoporosis and broken bones are not an inevitable part of ageing however.
It is estimated that every year in the UK there are more than 500,000 fragility fractures, that's one every minute (1,400 a day).
Osteoporosis causes 500,000 broken bones every year in the UK, costing over £4.5 billion.
Hip fractures account for £2 billion of the c.£4.5 billion cost per annum to the NHS of fragility fractures (including £1.1bn for social care).
Broken bones caused by osteoporosis can be painful, impact on daily life, reduce independence, and sometimes lead to life-changing disability.
1 in 4 experience long-term pain with 16% having been in pain which they link to their osteoporosis for over a decade.
Diet, nutrition and lifestyle
A well-balanced diet with adequate calcium is important to give bones all the nutrients they need.
Getting enough vitamin D from the sun, topped up with an extra 10 micrograms (400IU) daily from food or supplements - especially in the winter months – is also key for good bone health.
Maintaining regular weight-bearing and muscle-strengthening exercise is great for bone health at any age.
Those with osteoporosis are encouraged to exercise regularly to maintain their bone health, improve balance and reduce their risk of fractures.
Bone health is important throughout life. By adopting a healthy lifestyle, exercising regularly, eating a balanced diet with adequate calcium, and ensuring you're getting enough vitamin D, everyone can support their bones as they get older.
A Fracture Liaison Service (FLS) is the gold standard for systematically identifying, addressing and treating osteoporosis in anyone over the age of 50 with a fracture.
A FLS reduces the risk of re-fracture by between 30-40%. 
In terms of population, the ROS estimates that this equates to 38% of the population of the UK having no access to an FLS. 
In February 2022 the All-Party Parliamentary Group for Osteoporosis and Bone Health (APPG) launched a second inquiry, this time into primary care for people with osteoporosis.
Last year, an APPG's inquiry revealed a postcode lottery in the NHS for osteoporosis and deep inequalities for access to Fracture Liaison Services (FLS), the world standard for diagnosing and treating osteoporosis. Over a third of people in the UK are denied access to an FLS. The inquiry found a third (38%) of people had to wait over a year after their first broken bone for a diagnosis; almost one in five (17%) had to wait more than five years.
Key data collected from last year's APPG inquiry shows that:
Only half of Trusts in England provide an FLS, compared to 100% coverage in Scotland and Northern Ireland
28% of Trusts tried to set up an FLS, but found the main barrier to be funding
Only 15% (19/123) of Trusts in England met the national quality benchmark for identifying at least 80% of patients who need treatment
Only 8% of Trusts (9/123) in England met the national quality standard for following-up patients on drug treatment 52 weeks after their fracture
In March 2021, the All-Party Parliamentary Group (APPG) on Osteoporosis and Bone Health launched to raise awareness of the condition and the importance of bone health among Parliamentarians and NHS leaders. The ROS delivers the Secretariat for the APPG. Find out more about the APPG here. 
In April 2022 the ROS launched a new round of research grants, with up to £250,000 on offer for osteoporosis research. Find out more here.
Last year's grants round was the largest ever. After receiving a record number of applications, £400,000 was awarded to a total of 39 clinicians or researchers working in 18 organisations across England, Wales, Scotland and Sweden. Find out more here.
The latest guidance we've contributed to
May 2022 - Consensus statement published in the British Journal of Sports Medicine. The consensus statement has been endorsed by the ROS. Find out more here.
May 2022 - The ROS published new clinical guidance for health professionals on managing the symptoms of vertebral fractures. Find out more here.
April 2022 - New guidance on the prevention and treatment of osteoporosis was produced by NOGG and welcomed by ROS. Find out more here.
Audio and visual assets
Our videos, podcasts and graphics feature real people and their personal experiences, key statistics, information and advice about osteoporosis and bone health. 
Visit our YouTube channel
Visit our graphic suite
We have a range of graphics available in our graphic suite highlighting key facts about osteoporosis and bone health. If you would like to use these for your work, please ensure you credit the Royal Osteoporosis Society (ROS).
If you are looking for other graphics and photos related to osteoporosis and bone health, please contact our media team.
Listen to our podcasts
See our information series
Our information series offers a range of audio and visual information, including webinars with experts and guests.
Read our fact sheets
For more detailed information about specific aspects of osteoporosis and bone health, please see our fact sheets.