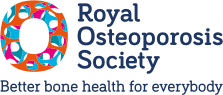 Our Research Strategy
We aim to bring about real improvements to the lives of people living with osteoporosis and are committed to investing money into research that will have maximum impact in the future.
We're the only UK funding body solely focused on research into osteoporosis. We know that research holds the key to a better future for the estimated three million people in the UK affected by the condition.
Our Research Strategy will help to progress the charity's four key aims of Prevention, Care, Support and Cure for osteoporosis and is built on three core goals:
Research that makes a difference

Supporting researchers

Research for people affected by osteoporosis
Ten core research areas have been identified that support progress for the charity's mission.
How we developed our strategy
In 2017, we took some time to review the impact of research we have supported and funded over our first 30 years. We wanted to understand how we could make even more of a difference to people's lives through research.
As part of the review process, we listened to:
people living with osteoporosis

researchers

healthcare professionals

our advisory committees.
We learned a great deal through the review process. For example, 80% of the people who responded to our survey 'A Good Life with Osteoporosis', in 2015, told us that a major priority for the charity should be to support and raise funds for research.
We also found out that for researchers committed to the field of bone health, the time when they really need support is when they are transitioning to undertaking independent research.
Useful download:
Contact our research team:
We're driving research and the development of new treatments, working towards a future without osteoporosis.
How you can help