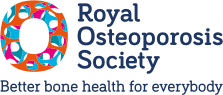 TV and radio presenter, Gloria Hunniford OBE becomes an ROS Ambassador
Head office
05 Apr 2022
The talented broadcaster, Gloria Hunniford OBE has taken up a new role as Royal Osteoporosis Society (ROS) Ambassador, joining us in our mission to raise awareness as we work towards improving the bone health of the nation.
Gloria recently interviewed HRH The Duchess of Cornwall and was inspired by the way the president of the ROS spoke about the experiences of her mother and her grandmother.
Gloria said: "I've done many interviews, and in the 50 years I've been broadcasting I've covered a wide range of subjects.
"During that time I've done a lot of interviews about osteoporosis, and spoken to people living with it, and I think it's a very worthwhile cause. So I was aware of osteoporosis.
"I interviewed ROS President, HRH The Duchess of Cornwall, and I found the way she talked about her family experiences fascinating.
"I don't think there's enough known about osteoporosis. People don't seem to know a lot about the treatments that are available these days and medicine has moved on.
"There are many options that weren't available in the old days. I see my role as helping to present information. If people are diagnosed with osteoporosis, I'd like them to know what's available to them and the options they have."
Find out more about the ROS Ambassadors who generously give up their time to help us raise awareness of bone health and osteoporosis at: https://theros.org.uk/what-we-do/who-we-are/ambassadors/