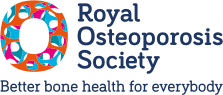 Video 3: How is osteoporosis treated?
In this video, we explain the medications available for the treatment of osteoporosis.
The video covers:
The different types of drug treatments available for osteoporosis and how they work

How these treatments are usually taken and for how long

What happens when you stop taking a drug treatment

How to decide whether a drug treatment is right for you
Watch next - Video 4: How do I keep my bones healthy?
Become a member today
Get support from a Specialist Nurse
Contact our free Helpline for tailored information about osteoporosis and bone health:
We're driving research and the development of new treatments, working towards a future without osteoporosis.
How you can help