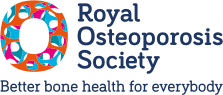 Video 2: How is osteoporosis diagnosed?
In this video, we explain the scans and tests available and how osteoporosis is diagnosed.
The video covers:
Symptoms of osteoporosis

How osteoporosis is diagnosed

What bone density scans are, what they involve, and what the results mean

How your risk of breaking a bone is calculated
Watch next video
In this video, we explain the medications available for the treatment of osteoporosis. Click on the link below to view the film.
Video 3: How is osteoporosis treated?
Further information
Find out more about osteoporosis scans, tests and results.
Membership
Join today for all the latest information to help keep your and your family's bones healthy and strong.
Get support from a Specialist Nurse
Contact our free Helpline for tailored information about osteoporosis and bone health:
We influence and shape policy and practice at every level through our work with healthcare professionals and policy-makers.
How you can help