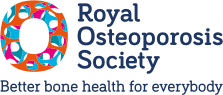 Video 2: How is osteoporosis diagnosed?
In this video, we explain the scans and tests available and how osteoporosis is diagnosed.
The video covers:
Symptoms of osteoporosis

How osteoporosis is diagnosed

What bone density scans are, what they involve, and what the results mean

How your risk of breaking a bone is calculated
Watch next - Video 3: How is osteoporosis treated?
Become a member today
Get support from a Specialist Nurse
Contact our free Helpline for tailored information about osteoporosis and bone health:
We influence and shape policy and practice at every level through our work with healthcare professionals and policy-makers.
How you can help