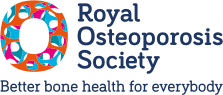 Osteoporosis
Osteoporosis is a condition where your bones lose strength, making you more likely to break a bone than the average adult.
Living with osteoporosis means you are at higher risk of breaking a bone. But not everyone with osteoporosis goes on to break a bone. It's not inevitable, and we're here to help you live well with osteoporosis.
A broken bone and a fracture are the same thing. As bones lose strength, they can break after a minor bump or fall. You may hear or read these described as fragility fractures. 
Newly diagnosed?
Learn more and find answers to common questions in our video series.
Membership 
Join today for all the latest information to help keep your and your family's bones healthy and strong.
Get support from a Specialist Nurse
Contact our free Helpline for tailored information about osteoporosis and bone health: