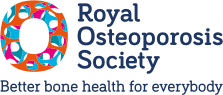 Vertebral fractures
We work with NHS colleagues to support best practice for the identification and management of vertebral fractures.
Vertebral (spinal) fractures are the most common type of fracture caused by osteoporosis, and people with these are at much higher risk of experiencing more fractures. Yet up to 70% of osteoporotic vertebral fractures go undiagnosed.
By identifying these early and introducing effective management and secondary fracture prevention strategies, we can prevent further fractures. This benefits both people living with osteoporosis and the NHS.
Our work includes:
providing up-to-date information and training resources, including current evidence and best practice
providing clinical guidance for primary and secondary care
working with national stakeholders to raise the profile of the impact of vertebral fractures and improving standards of care
providing people with osteoporosis and vertebral fractures with the information and support they need
State of the Nation Report 2021
Our State of the Nation Report: Vertebral fracture identification in 2021 outlines the challenges involved in identifying vertebral fractures and reviews vertebral fracture identification in the UK in 2021. 
Contact Jill Griffin, our Vertebral Fracture Clinical Lead, to find out more about how we can support you:
jill.griffin@theros.org.uk
01761 473285