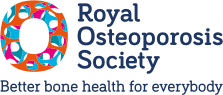 Chief Executive: Craig Jones
Craig joined the Royal Osteoporosis Society from the Advertising Standards Authority, where he was Director of Communications.
Craig has held leadership roles in membership and regulatory bodies over the last decade and sits on the Board of the Royal College of Anaesthetists. He also serves as a Lay Member of the National Organ Donation Committee at NHS Blood and Transplant.
Craig practised as a government lawyer in the Home Office and, in 2006, he applied his experience of advocacy to leading a children's charity's successful campaign for new investment in socially excluded young people. Following that outcome, he was invited by a Cabinet Minister to oversee stakeholder engagement for the Equality Act.
Governance, People and Culture Advisor: Helen Kingman
Helen joined the charity in 1989 and has held various key positions, witnessing the organisation grow from strength to strength.
Her role as Governance, People and Culture Advisor works closely with the Chief Executive and oversees Governance and Board Management, Compliance, Risk, Change Management and Human Resources.
Helen's team delivers our Transformation and Growth Programme, maintaining high levels of performance, employee engagement, learning and development, and looking after the health and wellbeing of our people.
Director of Clinical Services: Lauren Wiggins
Lauren joined the Royal Osteoporosis Society in January 2021 following similar senior leadership roles at Bowel Cancer UK and Prostate Cancer UK. She brings to this role and the charity, her experience in service development and improvement, change management and organisational development.
Lauren has a nursing background – both in general nursing and mental health – and worked as a Macmillan Clinical Nurse Specialist before moving to the charity sector. With over 10 years' experience in the sector, her focus is on ensuring that services meet the needs of those they seek to support and improving both outcomes and the experience of care for patients.
In this role, Lauren leads the teams that deliver our patient and public facing information and support services, health professional training and education, health service improvement and medical research. She is also lead for our flagship Osteoporosis and Bone Health Academy.
Director of Development: Jamie Grier
Jamie began his career in marketing, managing campaigns on behalf of clients including Vodafone, Diageo and Budweiser.
Since joining the voluntary sector in 2005 he has held specialist and leadership fundraising, development and communications roles at charities including; The London Wildlife Trust, British Heart Foundation, British Forces Foundation, Achievement for All and most recently, poverty charity Turn2us.
Jamie joined the Royal Osteoporosis Society in 2021 to lead our income generation and volunteer engagement.
Director of Finance and IT: Thom Harvey
Thom is a Chartered Accountant who has worked closely with technology throughout his career.
His role is to lead the charity's capability across Finance and IT, by maintaining strong financial control, supporting financial planning and decision making and ensuring that the technology is in place to support our strategy.
Thom joined the Royal Osteoporosis Society in 2021 from the National Childbirth Trust where he held the role of Executive Director of Organisational Services.
Thom started his professional career auditing a variety of not-for-profit organisations which has provided a strong foundation to his time in the sector, where in addition to supporting the development of financial strategy, he has successfully overseen several digital modernisation and large-scale development projects.
We work to improve the bone health of the nation and support everyone with osteoporosis to live well.
How you can help