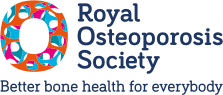 Case studies
We have a diverse pool of individuals from all over the UK who have a connection with osteoporosis and have shared their story with us. If you're looking for a personal story, please contact our media team.
"In summer 2021 I was on a camping trip with some friends when I tripped over a tent rope onto the grass. This was a relatively minor fall so I was pretty shocked to find out when I went to the hospital that I hadn't only broken my hip, but shattered my pelvis as well. I quickly had surgery for this and returned home with support from a carer. After conducting my own researching and prompting the doctor for a DXA scan, I later found out I had osteoporosis.
"I couldn't believe it when I found out that one in two post menopausal women have osteoporosis and thought 'why does nobody know about this?'. I felt frustrated that I could have been taking calcium and vitamin D to protect my bones but had no idea about this. That was really the trigger for me. I wanted to do something about it, which inspired me to share my story.
"It's extraordinary to me that people my age, however fit or unfit they are, whatever their lifestyle could be suffering with this without even knowing and I want to share my story in the hope of raising awareness with as many people as possible."
*Please note that Hilary's story is a sample one. If you are looking for a case study to use in your work, please contact our media team.
"I was diagnosed with osteoporosis at 22 years old, following a diagnosis of Coeliac disease, a condition that can increase your risk of developing osteoporosis. When the results came back, I was surprised to discover my bone density was really low and I had osteoporosis.
"My life isn't dramatically different from anyone else my age, but I do have to be slightly more cautious when taking part in activities that could lead to broken bones, such as ice skating or skiing, and I avoid certain bending and twisting movements when exercising.
"I wanted to share my story to raise awareness of the importance of bone health. I feel there isn't much representation for people my age with the condition and I want people to know that osteoporosis can impact younger people, and it doesn't mean you're going to suddenly break in half. I think it's important, especially for younger people, to be aware of their bone health, as by just making a few small changes in our lives we can help strengthen our bones and reduce the risk of osteoporosis."
*Please note that Ed's story is a sample one. If you are looking for a case study to use in your work, please contact our media team.
We'd like to thank all of our case studies for helping us spread awareness of osteoporosis and bone health.
If you're living with osteoporosis, know someone with the condition, or are volunteering or fundraising for the charity, we'd love to hear about your experiences. Please contact mystory@theros.org.uk to find out more.
Contact information
To speak to a case study, please contact our media team