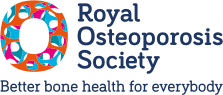 Academy Patient Advocates 
The needs of people with osteoporosis are at the heart of all the research we do. At least two patient advocates sit on each of our three Academy Working Groups: Causes, Technology and Effectiveness.
Our patient advocates have the knowledge and experience to provide a unique and valuable perspective, which helps shape the development of the Academy's research.
The patient advocate members of the Academy Working Groups champion the work of the Academy by:
representing what patients and carers need from future research (including priorities and concerns)

influencing how new areas of osteoporosis care are designed and delivered

advocating for people living with osteoporosis, so that new research also focuses on helping people live well with the condition

ensuring proposed research studies are easy for people with osteoporosis to successfully take part in
These perspectives are not often addressed by researchers and clinicians, who naturally focus more on the scientific evidence, research methods, and value for money.
What do patient advocates do?
Patient advocate members of an Academy Working Group:
attend Academy Working Group meetings (including teleconferences), usually three per year, in London or near Bath (at the charity's offices)

review research reports

work together with the other patient advocates, to discuss and collate the views of people with osteoporosis and their carers

(potentially) attend other meetings or events to report on the work of the Academy.
The position of patient advocate is offered on a voluntary unpaid basis. Any travelling expenses incurred to attend meetings are reimbursed in line with the charity's Travel and Subsistence Policy.
I believe in the 'patient as partner' approach, to work with healthcare professionals in always putting patient outcomes first. This is particularly true in research, where precious funds must be spent to the very best effect. It is both a privilege and immensely rewarding to work on these challenges alongside eminent clinicians and researchers - Academy Advisory Committee Patient Advocate - Nic Vine
For further details on the role of a Royal Osteoporosis Society patient advocate, please email research@theros.org.uk
Questions about the Academy?
We're driving research and the development of new treatments, working towards a future without osteoporosis.
How you can help