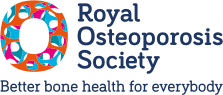 Women's Health Strategy has the right vision but "misses the brief" when it comes to tackling eye-watering osteoporosis treatment gap
Media releases
20 Jul 2022
The Royal Osteoporosis Society (ROS) warns that a lack of specific initiatives on osteoporosis in the first ever Women's Health Strategy is a missed opportunity for supporting women in Britain – half of whom will break a bone after 50 because of the condition.
ROS welcomes the investment of £3m to address deconditioning that has occurred due to the pandemic and the commitment to researching the benefits of using HRT in relation to osteoporosis. 
However, whilst the strategy contains a laudable aim to improve the osteoporosis treatment gap, it stops short of presenting any specific measures to improve NHS services.  The postcode lottery for FLS in England and Wales is leaving an estimated 90,000 people every year without the treatment they need, with only half (51%) of NHS Trusts providing the world-standard model of care – a Fracture Liaison Service (FLS).  
Craig Jones, Chief Executive of the Royal Osteoporosis Society said: 
The lack of specific initiatives on osteoporosis is disappointing.  Half of women over fifty will suffer broken bones due to osteoporosis, with as many women dying of fracture-related causes as from lung cancer and diabetes. The right therapies exist, but two-thirds of women are missing out on them due to the postcode lottery in the NHS.
This Women's Health Strategy is a missed opportunity for a strong, central mandate for a Fracture Liaison Service in every area, instead putting the onus on local decision-makers – the same approach that created the current inequalities. 
The Government said this strategy is about using existing resources better, rather than increasing public spending. Beating osteoporosis fits that approach perfectly, since a modest investment in fracture prevention services now will deliver major savings on the UK's £2bn per year hip fracture spend later. Tens of thousands of lives would be changed.  But it takes medium-term thinking and an actionable plan from government and NHS leaders"
The Department for Health and Social Care has today published the first-ever government-led Women's Health Strategy for England. This 10-year strategy sets out a range of commitments to improve the health of women and girls.