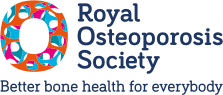 ROS launches largest ever research survey into pregnancy associated osteoporosis
Research
19 Nov 2021
The Royal Osteoporosis Society's (ROS) Osteoporosis and Bone Research Academy has launched the largest ever survey about pregnancy associated osteoporosis.
Osteoporosis associated with pregnancy is a rare condition when bones break easily, usually in the spine, or occasionally the hip, around the time a woman is giving birth, causing pain and disability.
We urgently need more research into this rare condition to find out more about the women across the UK who have been diagnosed with pregnancy associated osteoporosis and to understand what the potential risk factors are and how the disease has affected them.
The information gathered from this survey will be an invaluable resource for scientists to uncover the causes of the condition, improve diagnosis and identify the right treatments.
Pregnancy associated osteoporosis survey
A vital aspect of the Osteoporosis and Bone Research Academy's Research Roadmap is to decipher the underlying mechanisms of osteoporosis. Research into rare forms of the condition, such as pregnancy associated osteoporosis, can also help scientists understand the more common forms that affect millions of people.
Previous studies of this rare type of osteoporosis have been limited but ROS researchers are aiming for this survey to be a large scale UK-wide study.
The pregnancy associated osteoporosis survey will gather information about:
the risk factors for the condition
how the condition presents itself
the physical and mental health impact of the condition.
Take the survey today using the link below. Or if you are a healthcare professional, please encourage your patients to complete the survey.
Survey link for those who have experienced pregnancy associated osteoporosis: https://is.gd/paosurvey2021
Nominate a friend
Importantly, our researchers are also asking anyone who has experienced pregnancy associated osteoporosis to nominate a friend who had a pregnancy around the same time but did not experience pregnancy associated osteoporosis, to take part in a parallel control survey.
Survey link for those who have not experienced Pregnancy Associated Osteoporosis: https://is.gd/paocontrols2021
Professor Stuart Ralston, Chair of Rheumatology at Edinburgh University, who is leading the research said:
"Pregnancy associated osteoporosis is a rare but devastating condition that is not well understood. This vital study will provide new insights into the condition and will form the basis of improved diagnosis and new approaches to treatment.
"I urge as many people affected by the condition and their friends who have not experienced it to take part. The more we know about this condition the better we can ensure that women at risk are identified, assessed and treated appropriately."
Find out more
Read more about Valerie's and Lin Lee's experience of pregnancy associated osteoporosis.
Find out more about all our research into osteoporosis and bone health.