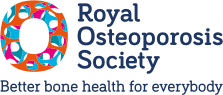 Cake Whisperer Val Stones joins ROS as Ambassador
Head office
02 Jun 2021
Former contestant of The Great British Bake Off, Val Stones, joins the Royal Osteoporosis Society as Ambassador.
Val was a contestant on the hit TV show The Great British Bake Off in 2016 and quickly became a fan favourite known as the cake whisperer.
Since then, Val has had a successful cookbook, The Cake Whisperer, and regularly appears in the media and at food events. She has also amassed a large following on social media who tune in for her top baking tips and recipes. What people might not know about Val, is that she has osteoporosis.
Osteoporosis is a condition where bones lose strength and break more easily. There are 3.5 million people living with it in the UK today and it causes more than 500,000 broken bones every year.
Originally from Conisbrough, near Doncaster and now living in Somerset, Val was diagnosed with osteoporosis 17 years ago. Val said:
"Osteoporosis affects men and women and I live with it every day. I manage the condition with daily exercise and by eating bone-friendly foods, including my bakes!
"I am honoured to become an Ambassador for the ROS who do such good work to support those living with osteoporosis, providing information and advice about how to live well with the condition. Importantly, they are also leading research efforts working towards a cure for osteoporosis. I hope that the awareness I can raise is going to get people thinking about their bone health and supporting the charity."
Val has been a long-standing supporter of the Royal Osteoporosis Society and has most recently shown her support by baking bone-friendly biscuits to post out to guests at our virtual events.
Jamie Grier, Director of Development at the ROS, said:
"We are delighted to have Val join us as an Ambassador to share her experiences of living with osteoporosis and raise awareness of what steps we can all take to look after our bones. Eating a balanced diet with adequate calcium, getting enough vitamin D, and taking both weight-bearing and muscle strengthening exercise are all key to protect our bones."
Later this year, Val will be working with us to raise awareness of bone health and work towards our goal of a future without osteoporosis.