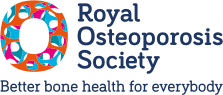 York Support Group
The York Support Group is a team of volunteers who offer people affected with osteoporosis the chance to meet other people in the area similarly affected, get information, support and ask questions about osteoporosis treatment and care.
Programme 2022
Thursday 31 March 
Chair exercises - Let's get going for Spring
Jason Minto from Healthwise
Thursday 26 May 
Update on Osteoporosis 
Dr Anne Moverley, Rheumatologist York Hospital
Thursday 28 July 
Talk about the Falls Prevention Service at York Hospital
Thursday 29 September
Speaker from the Pain Clinic at York Hospital
Thursday 24 November 
Talk by the Humber and North Yorkshire Health and Care Partnership 
Refreshments and raffle. Please book a place.
Venue:  Meetings are face-to-face and are held at Marriott Room or Brierley Room York Library, Library Square, York, YO1 7DS. 
Time: 2 - 4pm
Admission: £3
For further information, please contact:
York Volunteers
yorkvolunteers@theros.org.uk
01761 473112 or 01761 473113