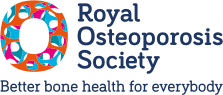 South Buckinghamshire Support Group
The South Buckinghamshire support group is a team of volunteers who offer people affected with osteoporosis the chance to meet other people in the area similarly affected, get information, support and ask questions about osteoporosis treatment and care.
Programme 2022
We are pleased to announce that our groups is re starting after COVID restrictions. We will meet on 3rd Thursday of the month and hope to arrange some speakers in coming months, for now our dates are listed below.
This is a chance for people living with osteoporosis to meet new friends and find support.
Dates for Meetings 2022
All will be afternoon meetings on the 3rd Thursday of the month
Thursday 16 June 
Thursday 21 July
Thursday 18 August 
Thursday 15 September 
Thursday 20 October 
Thursday 17 November 
Thursday 15 December- Christmas Event
Venue: The Penn Room, Tyler's Green Village Hall, Church Road, Tyler's Green, HP10 8LN
Time: 2pm - 3.30pm
Admission: £2 Refreshments available
For further information, please contact:
South Buckinghamshire Volunteers
volunteerengagement@theros.org.uk
01761 473113