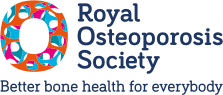 Newcastle and District Support Group
The Newcastle and District Support Group is a team of volunteers who offer people affected with osteoporosis the chance to meet other people in the area similarly affected, get information, support and ask questions about osteoporosis treatment and care.
Programme 2022
Monday 14 March (Online)
Fashion, Flair and Fractures
Suzanne Hewitt
Monday 13 June
'Dem Bones Dem Bones' – what Densitometry tells us about you
Alison Mackie, Consultant Clinical Science, Medical Physics and Susan McGranaghan, Chief Technologist, Medical Physics
Monday 12 December 
Christmas CAMEO (Come and Meet Each Other)
Venue: Online - or if national guidelines permit at Brunswick Methodist Church Hall, Brunswick Place, Newcastle upon Tyne, NE1 7BJ (please check before each meeting)
You are able to access any of the online meetings via telephone. Please contact the number below for the telephone conference call details.

Time: 2pm
Admission is free
For further information, please contact:
Newcastle Volunteers
newcastlevolunteers@theros.org.uk
01761 473112 or 01761 473113