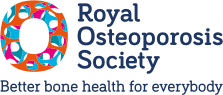 Carmarthen Volunteer Team
Support groups are run by volunteers, for the benefit of people affected by osteoporosis and fragility fractures. Most support groups meet on a regular basis to offer support and information to people living with osteoporosis their family, friends and carers.
This is a new team! If you'd be interested in volunteering with us, please contact the Volunteer Engagement Team.
Programme 2022
Tuesday 26 April at 2pm (In person)
Meet and Greet - come and share experiences and ask questions
Venue: Carmarthen Library, 9 St Peter's Street, Carmarthen SA31 1LN (next door to St. Peter's Car Park)
Time: 2pm (unless otherwise stated)
Carmarthen Volunteer Team
carmarthenvolunteers@theros.org.uk
01761 473112 or 01761 473113