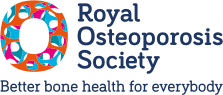 Cardiff and District support group
The Cardiff and District support group is a team of volunteers who offer people affected with osteoporosis the chance to meet other people in the area similarly affected, get information, support and ask questions about osteoporosis treatment and care.
Programme 2022
Thursday 26 May at 7pm (Online)
Nutritional Aspects of Bone Health
Professor Susan Lanham-New, Public Health Nutritionist
Thursday 9 June at 2pm (Online)
Craig Jones CEO at the Royal Osteoporosis Society will give an update on the work of the Society and the campaigning we are doing in Wales. Craig would love to hear about your issues accessing services.
Thursday 14 July at 2pm (Online)
Talk by one of the ROS Specialist Helpline Nurses
Thursday 15 September at 2pm (In person)
Come And Meet Each Other (CAMEO)
Venue: Currently online - please contact the support group to book your place and to confirm the venue before meetings.
Time: See programme for timings. 
Admission: Free
For further information, please contact:
Cardiff Volunteers
cardiffvolunteers@theros.org.uk
01761 473112 or 01761 473113