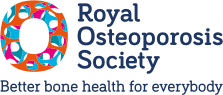 World Osteoporosis Day - 20 October
It's not acceptable to think that osteoporosis is simply 'one of those things'.
So, for World Osteoporosis Day every 20 October, people across the world join in to raise awareness of osteoporosis and bone health among the public, healthcare professionals, policy makers and the media.
HRH The Duchess of Cornwall shares a message
President of the Royal Osteoporosis Society, Her Royal Highness The Duchess of Cornwall, shares an inspiring message on World Osteoporosis Day 2020 to encourage everyone to take care of their bone health.
How you can help this year
We know that many people aren't aware of osteoporosis as a condition, or that they could be at risk of poor bone health. And World Osteoporosis Day provides a great opportunity to start the conversation.
This year, we've teamed up with our partner Vitabiotics to create a bone health quiz. This fun and interactive quiz is helping to educate more people and spread the message of how important bone health is - for everyone, at any age.
You'll see us sharing the quiz on our social media channels. And you can help us to spread the word.
Please, help us to raise awareness by completing our quiz and sharing it with your family and friends. 
And together, we can move closer to a future without osteoporosis.
View the full prize draw terms and conditions
What we did for 2019
To raise awareness of the human impact of osteoporosis, and help us see #TheBackOfOsteoporosis, we asked you to share your personal stories of living with the condition.
Christine shared her story of living with broken bones in her back, how it affects her life and why more research is vital, in our BBC Radio 4 Appeal.
The appeal was a great success, raising important funds and reaching many people.
Together, you raised more than £34,000
After listening to Christine's story on the BBC Radio 4 Appeal, in October, you generously donated £24,153.
The response to the appeal was incredible and the great news is, the first £10,000 was matched by an anonymous donor, which brought the total to an incredible £34,153. Thank you.
The money you've raised will help us fund world-class scientists who could study the genetic causes of the disease; and ways to detect it earlier. We're committed to finding a cure and it's support like yours that makes this possible and moves us closer.
Thank you for helping move us closer to a future without osteoporosis.
We influence and shape policy and practice at every level through our work with healthcare professionals and policy-makers.
How you can help