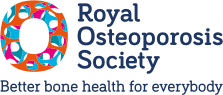 World Osteoporosis Day - 20 October
There are 3.5 million people living with osteoporosis in the UK and someone breaks a bone every minute because of it. 
Osteoporosis is a disease which causes bones to become weak and break easily. Half of all women and one in five men over 50 will break a bone due to poor bone health. In fact, every minute in the UK another bone breaks.
Osteoporosis is often referred to as a "silent disease" due to under-diagnosis, under-treatment and very low levels of public awareness.
World Osteoporosis Day is an opportunity to break the silence on osteoporosis and get more people thinking about their bone health.
Get involved
We need your help to raise awareness this World Osteoporosis Day! There are three ways to get involved:
Share your story – tell us about your life with osteoporosis and encourage friends, family and colleagues to use our bone health checklist on Facebook, Twitter or Instagram. #WOD21 #1EveryMinute


Join our virtual mass lobby of Parliament – write to your MP or other elected official and #LobbyWithUs. Find our easy guide here


Support us – Whether you test your friends, family, or colleagues with our bone-tastic Big Bones Quiz, host a Bone Sweepstake, or arrange your very own event, every pound you raise makes a big difference to people affected by osteoporosis. Everything you need to fundraise is available here #WOD21 #1EveryMinute
We influence and shape policy and practice at every level through our work with healthcare professionals and policy-makers.
How you can help