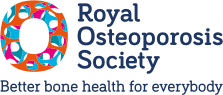 Our campaigning work
There are 3.5 million people living with osteoporosis in the UK and someone breaks a bone every minute because of it, yet only a quarter of adults know what the word means.
Considered, wrongly, as an inevitable part of getting older, we don't hear the same conversations about osteoporosis as we do with other chronic conditions. It is known as a 'silent disease', but for people living with the condition it can be life-changing.
Our campaigning work is aiming to change that – breaking the silence on osteoporosis and the importance of bone health to achieve a future without osteoporosis.
All-Party Parliamentary Group
We have launched the All-Party Parliamentary Group on Osteoporosis and Bone Health, and provide the Secretariat for the group.
All-Party Parliamentary Groups (APPGs) are cross-party groups of parliamentarians, from both the House of Commons and the House of Lords, that meet to discuss a particular issue of concern. These groups involve other interested parties and offer the opportunity to raise awareness of a topic and drive forward work in the area.
Meetings have taken place throughout 2021. Find out more.
Manifesto
Osteoporosis affects 3.5m people in the UK, but it's known as the 'silent disease', because of under-diagnosis, under-treatment and low public awareness. Now is the time to break the personal, societal and financial impact, and take action to put an end to the dire consequences of fractures.
Breaking the Silence - A Manifesto for a Future without Osteoporosis
Get involved
You can stay up to date with our campaigning work by following us on social media @RoyalOsteoSoc.
You can also show your support by sharing these updates with your networks and local MP.
Stay up to date with our campaigning work
Follow us on social media - @RoyalOsteoSoc
We influence and shape policy and practice at every level through our work with healthcare professionals and policy-makers.
How you can help