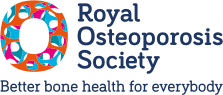 ROS Membership
ROS Membership is your go-to place for information and support about osteoporosis.
Informed by a community of nearly 20,000 members and our bone health experts, you'll have everything you need to build strong healthy bones for life. 
Your membership
Tap into easy-to-use resources to help you live well and build strong bones 
Grow your confidence with the latest expert advice on managing osteoporosis and your bone health
Connect with others by choosing the resources and events that work for you 
Your membership will also fuel the pioneering research we fund and the campaigning work that's putting bone health at the top of the public health agenda. 
Through my membership I now feel part of a community of people with shared experiences and a common bond - Kay, Sheffield
Join today for just £2 a month.
Health information and support 
Through your exclusive book, magazine, regular enewsletter, members area of the website and events, you'll have all the information and support you need. 
Learn all about your bones  
You'll find out everything you need to know about osteoporosis and bone health with your All About Osteoporosis book and regular member communications.
Ask the experts 
Our team of experts will answer your questions – whether it's about scans, treatment options, managing pain or something else – you'll get the trusted information you need. 
Tips for building strong bones 
Read tips from other members and our experts, on everything from exercising with confidence to getting a balanced diet rich in vitamins. You'll also have access to a whole a range of delicious bone-boosting recipes that you can try at home. 
Exclusive benefits 
As part of our community, you'll receive the latest information and support updates, a first look at upcoming events, news from the charity, and more. 
I find the magazine to be a very interesting read, particularly about different treatments, the research that is taking place, and to realise you are not alone with this condition - Celia, Oxfordshire
Join today for just £2 a month. 
Become a member
ROS Membership is your go-to place for information and support about osteoporosis.
Individual Member £24.00 (Annually)
Individual Overseas Member

 £36.00 (Annually)

Gold Member £190.00 (Price for 10 years)

Joint Membership £30.00 (Annually)

Joint Gold Membership

£276.00 (Price for 10 years)
You can join online today or by calling 01761 473287. To get in touch with a member of the team, email membership@theros.org.uk.
Join today
Become a member today for just £2 a month

Join online

Call 01761 473287
Members' magazine
Read a sample of our popular magazine for members