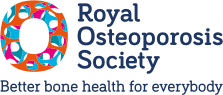 Great value member benefits
All the latest information to help keep your and your family's bones healthy and strong.
Information-packed 100-pagebook
Your own copy of our book, All about osteoporosis and bone health - exclusive to members.
Exclusive quarterly magazine
Receive our exclusive members' magazine, Osteoporosis News, four times a year. It's jam-packed with news, stories, top tips and research updates. "The quarterly magazine is an absolute treat - it's packed with news and advice. I would advise all non-members to consider joining. I find it invaluable."
Member-only online content
You'll be able to access the members - only area of our website and subscribe to Members' Extra Digest, our bi-monthly email, for news, research and lifestyle advice.
A welcome call from our Helpline

You have the opportunity to receive a welcome call from a member of the Helpline team, to welcome you to the charity and discuss the services that you may find beneficial, including our free Helpline and information resources.
Your choice of membership
Gold Member £190.00 (Price for 10 years)

Individual Overseas Member £36.00 (Annually)

Individual Member £24.00 (Annually)

Joint Gold Membership £276.00 (Price for 10 years)

Joint Membership £30.00 (Annually)

Discuss your membership with our friendly membership team by calling 01761 473287 or emailing membership@theros.org.uk
Discuss your membership with our friendly Membership Team
We work to improve the bone health of the nation and support everyone with osteoporosis to live well.
How you can help