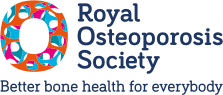 Ipswich Volunteer Team
The Ipswich Volunteer Team is a group of volunteers who offer people affected with osteoporosis the chance to meet other people in the area similarly affected, get information, support and ask questions about osteoporosis treatment and care.
Programme 2022
Friday 1 April 
Update from your local Fracture Liaison Service staff
Friday 15 July (3-5pm)
Afternoon tea at Lowood in Little Bealings
Friday 9 September 
Diet for osteoporosis and good health
Pain - why and what to do
Friday 9 December 
Exercise and osteoporosis
Social with mince pies
Venue: St Augustines Hall, Bucklesham Road, Ipswich IP3 8TH (unless specified otherwise in programme)

Time: 2 - 4.30 pm (unless specified)

Admission: Free. Refreshments will be served at all events (donations requested) and there will be a prize draw to raise funds for the local group.
Booking essential.
For further information and to book a place please contact:
volunteerengagement@theros.org.uk
01761 473113