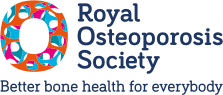 Remembering your loved one
When you give a gift in memory of your loved one to the Royal Osteoporosis Society, you are supporting a cause that was important to them by helping people living with osteoporosis today.
Order envelopes for a funeral collection -

Holding a collection for a cause close to your loved one's heart is a special way to celebrate their life at their funeral or memorial service.

Donate in memory - By coming together to remember our loved ones, we can find a cure for osteoporosis.
Fundraise in memory - However you choose to support the Royal Osteoporosis Society, we'll be there to help you make the most of your fundraising efforts.
If you want to donate by cash or cheque, then please include the name of your loved one and send to:
Royal Osteoporosis Society
Camerton
Bath
BA2 0PJ
Contact our supporter team