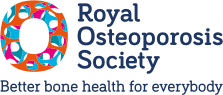 Please donate today
We're working hard to ensure we can continue to be there for people when they need us most. When they might be feeling anxious and alone, worried about what the current crisis means for their treatment and care.
£10 could fund a call for support to our free Helpline
Our Helpline nurses are receiving calls from people looking to understand how to manage their osteoporosis through the crisis, and from those seeking reassurance and a listening ear.
£25 could help develop new online support
Social distancing means we've had to stop support group meetings and face-to-face information events. We're urgently developing more online resources and exploring how we can support and connect people in different ways.
£50 can help ensure we're there for everyone who needs us
At the same time as demand is growing, we're seeing increasing pressure on our income. With your help, we can be there for those who need us most.
If you can, please support us with a donation today.
We receive no funding from the NHS and are reliant on the generosity of our supporters.

Your generosity can ensure we can continue our vital services now and in the future. Thank you.