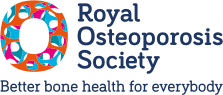 Life with Osteoporosis: the untold story
We asked people living with osteoporosis across the UK to tell us what life is like for them, and how osteoporosis affects their everyday life. Over 3,000 people responded, sharing their stories.
Our Life with Osteoporosis 2021 report shows the severe impact the disease can have on people's lives, their work and relationships. Read Life with Osteoporosis 2021
We'll be using the report to influence Government and policy makers to do better for people with osteoporosis. Find out more and get involved.